I just won the Ultimate Cheapskate's Road Map to True Riches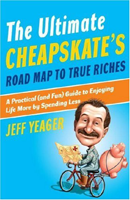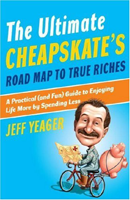 I have just won a copy of Jeff Yeager's book The Ultimate Cheapskate's Book with the story of my dear old aunt. JD over at Get Rich Slowly wrote.
The contributions have been fantastic. There are currently 220 stories, with more coming all the time. Some offer clever ways to save money; others are hilarious testaments to the thin green line between frugal and cheap.

With so many excellent choices, it was difficult to pick just three winners of Yeager's book. He writes, "I cried — both with laughter and real tears — to the point where I'm throwing in an extra book — at my own expense!" Read more…
I am honoured to be mentioned among the funny and frugal stories. Why? Well my native language is not English, nor have I ever gotten any writing lessons.
I must admit that I had no idea that I might come into consideration, but really look forward to reading the book 🙂